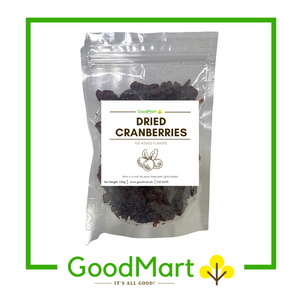 Dried cranberries contain lots of antioxidants and vitamins beneficial for your body. Apart from weight loss, cranberries serve as the best preventive natural source of urinary tract infection (UTI). Including cranberries in your diet may reduce the risk of heart disease due to polyphenols. We carefully source our nuts, seeds, and dried fruits to give you the best price possible.

What's GOOD about our Dried Cranberries:
✔ Perfect for snacking & baking
✔ Prevents UTI, cancer, and heart disease
✔ No Sugar Added
✔ Vegan
✔ Comes in a resealable package
✔ Product of the U.S.A.
How to store:
✔ Seal after every use
✔ Avoid direct sunlight
✔ Best stored in a cool area or inside the chiller
*Email us for wholesale/bulk requirements at goodmartph@gmail.com